Transitions in Education – Transitions in ELT"
October 10-11, 2015
COEX Convention Center
Seoul (Gangnam)
Pre-conference Workshops October 9
Your colleagues want to change what they do in the classroom. Your students want teachers to change what happens in the classroom. The Korea TESOL International Conference – this gathering of educators dedicated to preparing young minds to race, or bounce, or stutter-step down the path to success – is a great place to start or continue your mini-revolution in the way we do things in that cauldron of thought we call a classroom.

Main Conference Speakers
Chuck Sandy
Robert Murphy
Boyoung Lee (이보영)
Barbara Hoskins Sakamoto
Curtis Kelly
Sara Davila
Glenn Stockwell
Jon Nordmeyer
Kalyan Chattopadhyay
David Valente

Pre-Conference Workshops
Friday, Oct 9 (a national holiday)
— Strands for Workshops —
Media & Technology
Young Learners & Teens
Professional Development
Teaching & Learning

For More Information

Pre-register to save  http://koreatesol.org/ic2015
Pre-registration closes Sept. 30
Registration rates start from 50,000 won
Group rates also available through pre-registration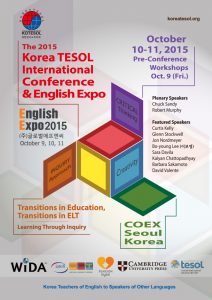 No tags for this post.