by Cinzia di Loreto
I feel I am very fortunate to be an English teacher in my home town of Terni, situated in Southern Umbria in Italy.This beautiful area, full of woods, rivers and lakes, is rich in culture and tradition with a very relaxed pace of life; it is a lovely place to live.
However, this place is not teeming with job opportunities for English teachers and so you have to be flexible and work in several institutions in order to make a decent living.
In and around Terni, the interest in learning foreign languages begun during the 1980s. Being a steel city, the various factories here were forced to forge business partnerships with Germany, France and Finland just to survive. That was good news for me, as CEOs and managers and even employees started to realize that they needed to speak English.
I started teaching English after graduation at the end of the nineties and have managed to stay in employment ever since, something for which I am very grateful.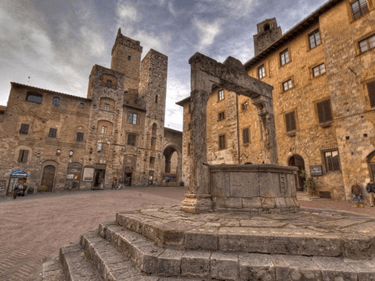 San Gemini ; a medieval village
Tourism has also grown over the years, and now visitors from all over the world come to see the historical medieval wine and food festivals such as the Corsa all'Anello in Narni or Giostra dell'Arme in San Gemini. To be able to work in tourism, waiters, waitresses and hospitality staff now need to speak English.

Charmed by the beauty of the landscape, the cuisine of the area and the lovely climate, many people from Britain have fallen in love with Southern Umbria and moved here permanently. Not surprisingly, many of them have become English teachers but usually on a freelance basis.
Nowadays, you can hear English spoken everywhere, even in the little country lanes crossing our countryside, where the atmosphere has always been calm and discreet.
To be able to cope with the influx of visitors and permanent guests, many municipalities have started to organize English language courses and also many new language schools have opened giving more opportunities to English teachers. Often as these courses are financed by the European Union, they are quite well paid.
In the year 2003, my town opened a technological centre for degrees in Engineering and Medicine as part of Perugia University, one of the oldest (1308) and most prestigious universities in Italy. I started working there and professionally this was one of the most exciting times in my career, as I got to work with other professionals who taught me so much about teaching.
In 2013 my professional life changed again when I decided I wanted to try to teach at the public school. Dividing my time between the university and school, I found that the two jobs were similar in that I taught English but different in that I feel that I have a more of a duty of responsibility to my school students and that I have to be more of a role model to them. I feel sometimes I am like a mirror in which they can see themselves in the future, particularly if they want to be English teachers!
So would I recommend Terni as a place to work?
I certainly would, as you will not be disappointed with the way of life, but, if you are looking for a full time job to support a family, perhaps the big cities of Perugia, Rome and Florence might be better suited to your requirements.