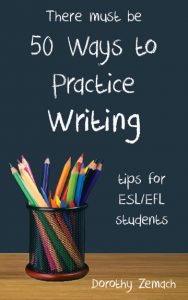 This book is made for students of English as a Second or Foreign Language.
Learning another language is never fast, but the Fifty Ways to Practice series will speed things up by showing you how to practice more efficiently and effectively both inside and outside the classroom. These books can be used by beginners and advanced students alike.
You will learn 50 ways to practice and improve writing – both with pen and paper and typing. By applying these methods, you will write more, write faster, and write more correct and more interesting papers and letters.
$0.84
Buy Now