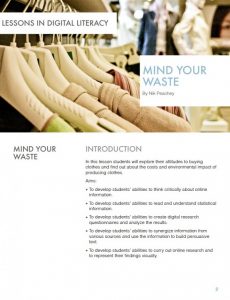 In this lesson students will explore their attitudes to buying clothes and find out about the costs and environmental impact of producing clothes.
They will do this by studying an infographic about the USAgain clothes recycling project, discussing the content and implications of the graphic and researching some of the background to the problem.
The materials in this plan can be used in different ways. The first four tasks of the plan can be used independently as a simple reading and discussion class. The last three research tasks can be used individually as follow up tasks or you could use all three. These tasks are likely to take longer and could be set as homework or independent study tasks.
£1.50
Buy Now