By Julie Pratten
While the debate about print books becoming extinct and digital taking over is still raging, for the time being, physical books are still very much with us in ELT. But don't let anyone fool you into believing that it's easy to eek out a living from writing or publishing independently. In the next few issues I will be giving you some tips on how to self-publish or get published, that will help those of you who are thinking of taking the writing route, but before that, I wanted to share a few ideas about how we can make the writing and publishing landscape better for all of us. Here's why we need to.
Fantasy: 'It is easy to publish my own books and sell them on Amazon.'
Reality: The vast majority of books sell less than ten copies on Amazon.'
At the IATEFL conference recently, Dorothy Zemach also aired her views on the state of ELT publishing. Many of these ideas are not new to people who have been in the publishing or writing game for a while. Seasoned authors are aware of the pitfalls of flat fee versus royalty deals, non-compete clauses and other traps we can fall into on the road to getting published. However, the one thing that probably threatens the indies most isn't new at all, but (sadly) still needs repeating loudly and clearly. Downloading pirate copies of books is theft!
Fantasy: 'Everybody knows piracy is illegal. Teachers don't do it.'
Reality: 'Thousands of illegal PDFs of whole books are downloaded every day.'
Care for your tribe
Dorothy's plenary is out there and that's great, but the important thing to take away from it is what we, as teachers and changemakers, do next to support our own tribe. Yes, that's right, we started off in the same place and we do belong to the same tribe. We studied, trained, gained experience and have all told our teacher tales about the road we have travelled. Most of us have helped others on the way. We have all written materials for our classes at some time.
Take action
This is important for all of us; it is also what can really affect change. Change starts with you, thousands of individual teachers around the world. We have to unite and support our tribe. The bottom line is teachers and learners need (and want) new and innovative ideas to take into their classrooms but those ideas come with a price tag that we have to pay. We need to do more to encourage new names to join or stay in the publishing world. However good the big names may be, there is always a need for niche books and big publishers don't want to publish books that are going to sell a few thousand. Enter the indies.
7 things you can do to support indie authors and publishers
1. Don't photocopy whole books (and call out teachers who do.)
Would you go into a shop and steal a loaf of bread? Or an iPhone if someone left it on the table in a café? Of course you wouldn't. Downloading books from pirate sites is theft and damages authors' livelihoods. Simple fact.
2. Support indie authors and publishers
Buy a book from an independent author or publisher. There are lots of great books out there and some good deals too. Or recommend that the owner of your school or institution buys indie titles.
3. Collaborate as affiliates
If you have a website, are a school or business owner, look for ways of hooking up with an indie publisher or author and adding links to their site or sales outlet.
4. Blog about indie books
Blog about an indie publications or offer to write reviews. This kind of collaboration can lead to lots of other avenues of opportunity for you. It's a win-win situation.
5. Adopt an author
If you are a seasoned author and authority in the ELT world, you can adopt an author by supporting their new book in your talks and workshops. It doesn't have to come across as a direct plug. We all give ideas for materials and activities, don't we?
6. Keep the dialogue going
If you are an organiser or member of a regional teacher's association or teacher's group, make room for independents and support them. Organize regional indie author forums or surgeries. If possible arrange competitions or scholarships. Investigate how local businesses might support this type of initiative.
7. Share the 'indie books are my bag' icon
Download the icon below, mention it in your blog or share on social media. Get the message out there that we are united on this front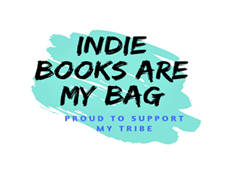 As an indie author and publisher, I love the whole process of publishing, from the light bulb stage through editorial, design to print. I always believed it could be done differently. It can. It's in our hands. It's about caring, supporting, protecting, collaborating and being more discerning. There's so much talent out there producing books that should be selling.
Let's unite our tribe and make things better for all of us.
In next month's column, I will be talking about how to get started as a writer.