by Pola  Papadopoulou
I am a freelance English teacher in Stockholm, Sweden. I work with all ages and levels, but my expertise lies in Business English and IELTS preparation, which are both areas I am passionate about.
Ninety percent of Swedes speak English
Working in a country where 90% of the population speaks English, at a high level for that matter, may seem challenging. Add to that the fact that I am a non-native speaker and one would wonder what I am doing here and if I have made the right choices in life. Despite the difficulties, I can assure you, I wouldn't change a thing in the process so far.
What I find most interesting in teaching in Sweden is that people always know exactly what they need a teacher for and they tell you so from the beginning. This is why most lessons are short-term. It's not simply that they wish to improve, but that they wish to speak more fluently because they may need it for a foreign assignment in their jobs, because they are preparing for an exam, or because they need help dealing with schoolwork. And the abovementioned can be narrowed down even more, so much so that small chunks of tasks are always created. Students have a vague idea of how they want to learn and teachers are always open to feedback.
Coping with being a non-native speaker
One of the biggest adversities I had to overcome was, of course, the fact that I was not a native English speaker. I used to look at this as a shortcoming, which was why I took advantage of every opportunity I could get my hands on to make me better at what I love. Even though I do not regret anything I have done (who would regret having 3 different qualifications in teaching English, anyway?), I must say that I have learned that being a non-native teacher of English has its advantages; you having a greater understanding of what your students are going through when learning this lingua franca as you yourself have been in that position before.
Stockholm ranks high in innovation, its has a great business scene, and it attracts many international students. Having a high level of English seems imperative. Swedes start learning English at a young age and a lot of international schools and programs are available.
Why do Swedes need an English tutor?
So, why would they need an English tutor? I asked myself the same question when I started contemplating a change in my career. I was glad that personal reasons had brought me to Sweden, but dealing with a depressing job situation was not exactly ideal. Plus, working in an international school was not exactly a walk in the park, as I found that there are a number of injustices when recruiting. Non-native speakers are not always the first to be picked for an English teaching position at a school. Not only that, but since July 2014, Sweden has passed a new law that requires teachers to have a lärarelegitimation, a teaching qualification obtained at a Swedish university.
The only trouble is that in order to obtain this certificate, one must be fluent in Swedish and go back to studying at a Master's level for about one and a half more years. As you can imagine, this is not plain sailing especially when you are looking for a job to support yourself while living in an expensive city like Stockholm. However, miraculously, native speakers seem to be exempt from such a law, rather under the table I would say, as any qualification from an English speaking country would do.
I, therefore, had to start looking somewhere else. It took me some time but I realized that working with Business English is something that teachers may not feel very comfortable with. I was one of these teachers wanting to work with children and I found the idea of working with adults, let alone adults within a business capacity, quite daunting. Which is why I went for it. The company I still work for as a freelancer was trying out a pilot educational program in Business English.
I am happy to say that I was the first one to try it out in Stockholm. Even though training was provided by the company itself, I thought it best to prepare myself for the possibility of teaching Business English by obtaining a qualification. I was already an active member of the TESOL Macedonia-Thrace, I had been to conferences and seminars, and learned the importance of being prepared. I enrolled in a distant course on teaching Business English way before I sent my application to the company. I was already sure that this was what I wanted, so there was no reason not to dive in headfirst. Plus, I found out that Stockholm provided fertile land for Business English teachers.
Starting to teach Business English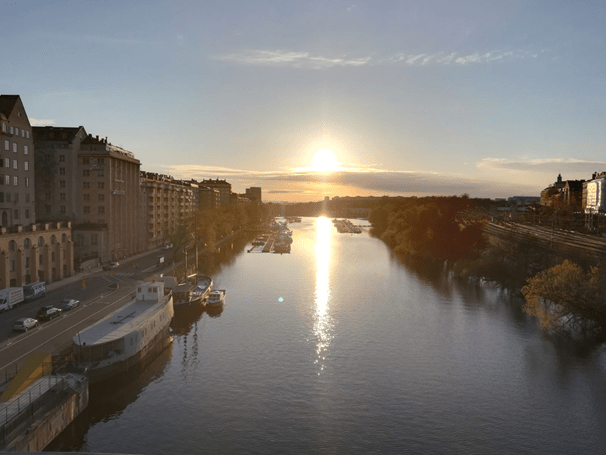 My application was viewed and after a successful interview, I simply started teaching Business English, which, I won't lie, scared me to death. My first students were a group in one of the biggest recruitment agencies in Stockholm and I have never felt more nervous nor more exhilarated than with this experience. I was called a language expert, I received positive and negative feedback and I also learned that teaching a language is not only about teaching the functions and skills of the language, but also about discussing and understanding cultural elements.
I realized that even though my students had a high level of English, they did not understand why they felt discouraged when dealing with people outside of their own culture. I helped them see the differences in the language when used in different registers and in diverse cultural situations. After having taught a couple of students, the pattern of teaching Business English in Stockholm was becoming more apparent. Cultural differences were what they strived towards, not in a sense of comprehending them, but rather in expressing themselves in English.
Apart from the teaching and the welcoming Swedes, Stockholm is truly a picturesque city. Its magic lies in various areas ranging from the beautiful cobbled alleys of Gamla Stan (the Old Town) to the numerous forests and lakes surrounding it. Its beauty knows no boundaries during all seasons, but one can certainly revel in the stunning nature during spring where Stockholm is at its best with the waters reflecting the sun and the trees and flowers going wild with buds and colors.
This is my home away from home and this is where I teach.