Entrepreneurs: Rosie Mannion from Gocambio
Tell me a little bit about Rosie?
I grew up in Northern Ireland and studied in Scotland, I caught the travel bug early on. I've called Co. Waterford, Ireland home for the past 10 years and during that time my background has been in the TEFL industry, eLearning, paid and voluntary work abroad and adventure travel. Pretty exciting, huh?
The most exciting thing of all though is our new connection platform GoCambio.com, it makes getting up every morning a no brainer…
Where did the concept for GoCambio come from?
The idea for GoCambio came to sibling duo Deirdre Bounds (founder of i-to-i.com) & Ian O'Sullivan while out for a Sunday walk along a cliffside in Co. Waterford in early 2014. They asked themselves why people paid so much money for language lessons abroad and talked about how difficult it was to even find a conversational language tutor. They wanted to solve this problem.
They knew that millions of people around the world wanted to improve their ability in speaking a foreign language. And they also knew that there are millions of people who travel independently each year.
So they thought if they could connect those people, they could make a difference.  They could make the world a little smaller, a little friendlier and a little smarter. GoCambio was created, a new way to travel & solve an age old, global problem of high priced tuition fees – whether it be for language, music or academic subjects.
GoCambio gives everyone the chance to travel for less, live like a local and have a unique and authentic travel experience, while helping people learn a new skill or improve an existing one. Our mission brings free education to the world and also creates a new authentic way for people to travel.
Having worked with both Ian and Deirdre before in i-to-i.com, I was excited to join forces with them again.
The word cambio actually derives from the Spanish and Italian word for exchange. We knew that to have a truly successful global brand, we needed a name that would work in a multilingual setting.
How does it work?
GoCambio is an online platform that connects people who want to travel and have a skill to share with people who have a spare room and the desire to learn or improve a skill. Initially the company launched based around the premise of language sharing then moving to include wider skills sharing. Guests and Hosts find each other on the GoCambio platform and arrange their connection free of charge, and can avail of a free Cambio preparation course.
So, in exchange for a couple of hours a day helping someone improve the way they communicate in the Guest's language, Guests get a place to stay and a warm welcome from a local Host. And Hosts get to improve a talent, skill or language they are trying to master.
Anyone can join GoCambio no matter what your skill, whether you're a professional tutor or simply an enthusiast. You don't need to be a teacher to share your native language but anyone with ESL training for example will have a breeze sharing their English language.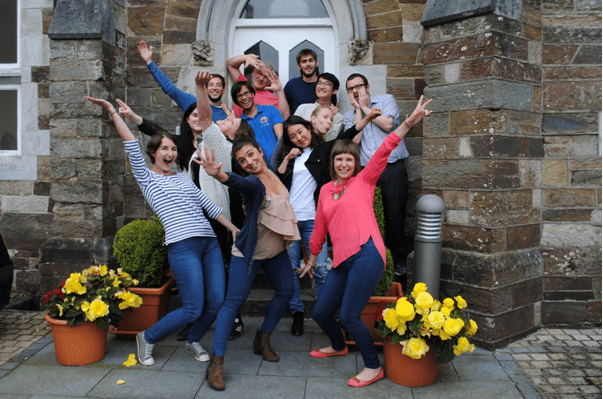 What need does it meet?
GoCambio solves an age old, global problem of high priced tuition fees – whether it be for language, culinary skills, music or academic subjects by connecting skilled-travellers directly to learners. It also creates a new way for people seeking authentic cultural experiences to travel.
When have you received funding from and how much did you need to start the company?
The initial funding for the company came from private owner and shareholder, in excess of €400,000 has been invested to creating GoCambio.com and the technology behind it. We are now looking for the right external investor to join us to be able to expand at the pace we want.
What are some of the biggest challenges you've faced, and what have you learned from them?
Our whole business centres around technology and I'm not a techie so there will always be challenges translating non-techie visions to a technology reality. All good fun! Our team are really the best bunch of people so there's never any falling out – and a good lot of falling around laughing at each other.
What I've learned is that you always need to put a challenge into context, step back or to the side or just move anywhere to get a different viewpoint. It'll help. Focus on the solutions and they will come – never zone in on the problem itself as its hard to see past it.
How do you ensure members' safety?
Good question. This is something we're excited to be improving. We're currently working on creating a greater verification tools for members. Currently we verify members via their mobile number and email address. We also recommend Skyping with your potential Hosts and Guests as well as checking them out thoroughly. We have a safety section on our site as well as some blog articles to help members with this topic.
How do you make money?
Right now we don't. So if anyone has some great ideas I'd love to hear them?
What's your vision for the company?
My vision is simple; 1 million members.
The rest will take care of itself – thousands and thousands of unique travel experiences, culture sharing on a global scale, countless friendships, and education for everyone…
What's next for GoCambio?
Tech and more tech. Our focus is to develop the next set of technology milestones that we've set out for 2016.