Enduring Lessons from a Welcome Center
by Walter Fernando Balser, Ed.D.
In the summer of 1999, I emerged from graduate school as a young social studies teacher ready to change the world. Like many of my peers in Central Ohio, I hit the employment trail searching for that ideal teaching gig, but honestly I was willing to take whatever I could get. After numerous interviews that left me as candidate 1b, I found myself without a job just days before the start of the school year. And then the phone rang. On the other side was a job offer to be a founding teacher at the Columbus Welcome Center, a middle school dedicated to helping refugees from war-torn countries assimilate into American life. What followed was an experience so profound that it changed not only my perspective on education, but my entire worldview. Perhaps more than ever, this was a lesson I think we can all learn from today.
The First Days Were Chaotic
As expected, the first days of school were chaotic. With a handful of teachers and barely a dozen students, mostly Somali, we tried to make something out of nothing. We came up with schedules, grouped kids the best we could, figured out how to feed them, and ordered books and materials on the fly. Over the next few weeks more students began to arrive, nearly all Muslim and most from countries ravaged by war and poverty. Slowly but surely we welcomed a Jordanian, a Moroccan, Albanians, Eritreans, Bosnians, and the list goes on.
As a group we were make shifting, figuring ourselves out. As a new teacher and young father, I was figuring myself out. Lord knows the students were lost. But we were all happy. Elated really. We had no idea what the next day held.
Settling In Settled Us Down
As the seasons changed we blossomed into a community of 75 students from 20-plus countries. Some were learning how to hold a pencil for the first time, their hands contorting as if they were learning how to play guitar. I marveled as a teacher wrapped her hand around that of a young girl's, not to master a chord, but to form the letters of her name for the first time–at 13 years old. Thankfully though, smiling came naturally. Except for one young man from Eastern Europe. He never smiled. We all saw a torment there, a dark past that made him prone to wild swings, literal ones. His body was 12 years old, but his face was decades older, wrinkled with deeply ingrained crows feet at his eyes.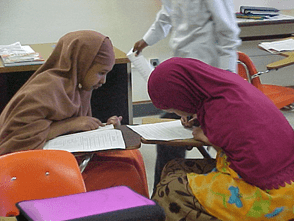 By the second semester we instituted grade levels that had nothing to do with age. In a sixth grade class there were students who stood well over six feet tall with five o'clock shadows. They were men, really, learning alongside children. I could sense their shame and embarrassment, but they endured. They just wanted to learn. To the families "the younger" they were the better, because it meant more time to catch up. Yet I knew–we all knew–that some would never catch up. But we also knew that this was their best chance.
If there was one thing we all mastered it was the art of improvisation.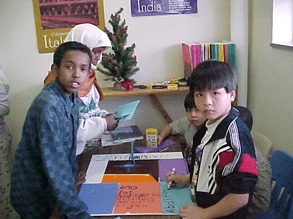 We created a physical education class, mostly so students could be kids, so they could run, and sometimes, just so teachers could catch up. As the junior teacher this usually fell to me. Just like that, I would transform into a PE instructor, soccer coach, or referee in the only game in town–futbol. We all played, teachers included. Girls included.
But what I remember most was how these students did not want to just kick a ball; they wanted to learn. On more than one occasion they expressed disappointment when class was cut short by a "recess." I still recall a young boy, Ali, proclaiming on behalf of the class, "we don't want to go outside Mr. Bolsa, we want to reet." Other students would stand erect at their desk when called to answer, not because I asked them to but because they respected teachers that much. They understood unequivocally the power that comes from an education, and the privilege it is to receive one. I took notice.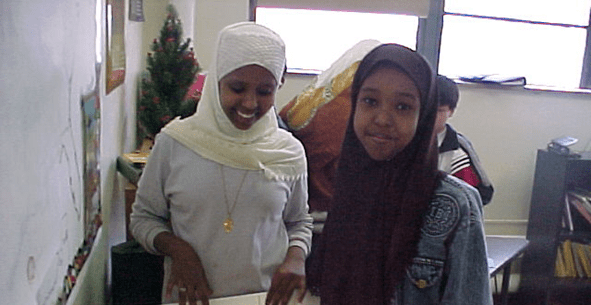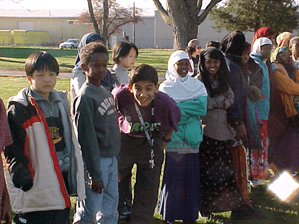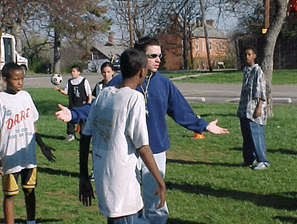 Brilliance Emerged At Every Turn
As in any classroom, there were some students that stood out from the pack. The Ali family is still my go-to standard for what a gifted student "looks like". Nevermind learning English in just a few short months; the brother and sister pair had a remarkable ability to synthesize like philosophers. Or there was Samy from the Congo. His mastery of the English language was swift, his holding forth ever so eloquent.
But the students were not the only ones learning, nor were they alone as they adapted to a new land. We had a Russian math teacher forced to leave her life as a scientist; a teacher from China; a Somali community organizer; and a classroom assistant from Eritrea, an aspiring computer programmer at the dawn of the internet.
There were hard lessons and funny ones too. Like the time I tried to shake a mother's hand, only to have her politely pull on her own sleeve to cover her hand–so I wouldn't actually touch her. We smiled at each other awkwardly as she extended her arm while I "shook" a dangling piece of cloth. Lesson learned.
Over the year I also learned about the peace of Islam and the brutality of the warlords of Somalia. And the beauty of Somali culture, its cuisine, its song. So too for Kosovo and Sierra Leone, two nations mired in the greatest atrocities of the 20th century. In the midst of these horrors somehow the students found the grit to forgive and love again. And write.

A LETTER FROM LASSIE

LOCAL SOMALI LEADERS WORKING AT THE SCHOOL
Ambassadors
In a year full of lessons perhaps nothing was more demonstrative of the power of openness than our "Ambassador Exchange" program. Coordinated with a colleague in a nearby suburban school, whose demographics could not be more polar opposite, we set out to connect our students through organic dialogue. Utilizing email, a relatively new medium in those days, the students pen-palled with peers for several months. We gave them no prompts, just enough background to let them know they were, albeit separated by 10 miles, worlds apart.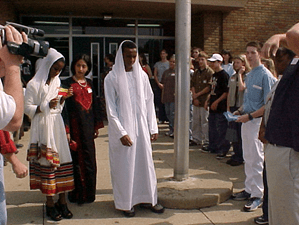 The students loved it. My colleague, Jeffrey Oaks, and I decided that the next logical step was to bring the students together. We arranged a series of face to face meetings at each other's school. As the day arrived to visit them my students suggested ideas for how we could share our many cultures. "Lets give them a United Nations flag!" one student exclaimed. "Lets dress in our country's clothes," another suggested.
As expected, our visit to the suburban school, Groveport Madison Middle School, was incredible. The students exchanged gifts and laughs. The Welcome Center students, many dressed proudly in their cultural attire,visited classes and shared their experiences of coming to
America and leaving the only world they knew. For that one day they were back home. A shy young man from the Dominican Republic opened up, and an insecure young lady from Cuba transformed her sassiness into confidence. And Samy, well, the great orator stole the show. That is, until one of the American students suddenly decided to break out an emotional rendition of the Star Spangled Banner. It was surreal. But natural.
Some months later the partnering school came to our campus and we all took part in the mother of all football games. Jeff played goalie for a bit, much to the chagrin of our star Egyptian goalie, Abdil. As was usually my role, I refereed our last experience together. I can't remember the score, but I am pretty sure it didn't matter.
WELCOME CENTER STUDENTS SHARE THEIR STORIES
GROVEPORT MADISON STUDENT SPONTANEOUSLY SINGS NATIONAL ANTHEM
These Lessons Endure
Over the next 20 years I would serve as an educator in urban schools across the country. Throughout my time as a teacher and school leader, I implicitly channeled this experience in every interaction I had with students and families. Every lesson. Every pep talk. Every conference. Every student with whom I have ever communicated has been influenced somehow by these children. And they are the better for it.
The year would end as it began: A group of human beings who cared about each other, each of us trying to find our way in a country we came to call our own. It didn't matter where we came from, when we arrived, or from whom we were fleeing. For that one magical year we improvised, shared, learned, and loved. There was no fear, just joy. This was the greatest lesson anyone could ask for. And one that is sorely needed today.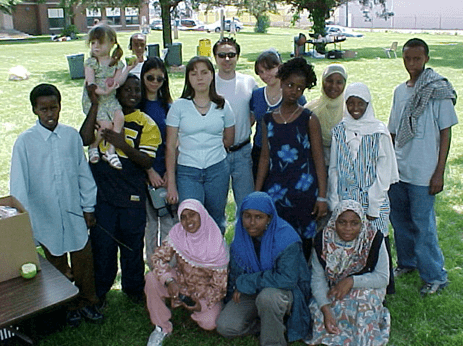 THE FACES OF THE WELCOME CENTER