By Delić Meliha

I volunteer as an online English Teacher for the Free Online Language Classes for Refugees and Displaced People (aka Amal Learning). My role in the group is to offer one, free of charge, class per week, teaching languages to refugees: (English, French, German or another European language) via online video classes (mostly Skype and Zoom).
I also help them with their move to Europe. In this role, I teach them the basic principles of life in Europe, such as culture, tradition and customs of the city they are moving to, where to look for jobs, how to behave etc. In addition to this role, I spend my time with the Amal Learning team getting acquainted with the refugees and asylum seekers who we support. I especially enjoy my interactions with other fellow teachers, those who are working on establishing suitable platforms and material kits to our users.
Why I volunteered with this organization
Ever since refugees started to enter the areas of ex-Yugoslavia (Bosnia, Serbia, Croatia, Slovenia), I became very interested in their struggle. Therefore, when Amal Learning advertised their "Teach a language. Transform a life." campaign on Facebook in 2017, I thought it was the perfect opportunity for me to combine my existing skills and knowledge, having worked online for a couple of years.
Users of this online service are primarily students, refugees living mostly, but not only, in the Middle East. Many of them have been sponsored by Canadian citizens or by NGOs to live in safer countries. As a side note, being in a foreign country, far away from their homes, without their family and friends, with limited language skills, can be pretty uncomfortable and scary.
Therefore, Amal Learning's founders, Mabel Prieto and Sarah Waddington, felt it important to help in making their transition and settlement a bit easier through their role of giving refugees support and access to language skills. With that said, volunteers are the key, if this project is to continue to provide services to this special group of people. Hence, the team behind Free Online Language Classes for Refugees and Displaced People is comprised of experienced people from different backgrounds in language teaching, social policy, e-learning, project management, IT, among others.
Volunteering with Free Online Language Classes for Refugees and Displaced People has given me not only a feeling of immense and profound satisfaction and joy, but also the realization that I have done something worthwhile for some human being, to help to improve someone's life, somewhere miles away, to empower them, to teach them to balance different spheres of their new life, to be part of someone's life… It is simply priceless.
How (and why) to volunteer with Amal Learning
Before I applied to volunteer with the Amal Learning, I thought it would be a huge commitment with a long training course, etc. However, the application process was fairly easy. I was so amazed how well-organized, well-managed, and smooth it was to engage with the team and these wonderful people. All people, regardless of their age, backgrounds, and areas of interest are more than welcome to get involved.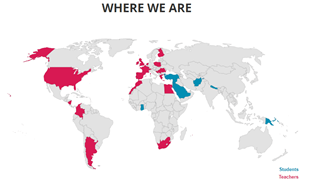 If you want to help, here are some useful and needed roles:
Teachers of English as a second language for adults and children – You don't have to be a teacher to do this.
People who speak French, German or another European language
People who are good with project management and IT
People willing to lend a hand with e-teaching and e-learning
All of the above
The only requirement that volunteers need is to be able to follow instructions, i.e. to read and sign our commitment of what is expected from you as a Teacher and/or Conversation Partner and what you can expect in return.
You can find their official website here, and there is typically an extremely informative Facebook group where you can look for up to date information. This group is really helpful for getting acquainted with the latest free and/or online courses, training courses, teaching tips and tricks, ideas of what is (not) needed, bonding with other teachers, and many more amazing things.
When you are accepted to the Facebook group, you can introduce yourself by stating your name, your background, language(s) on offer, and/or anything else that you think this group could benefit from.
But why am I telling you all of this? Why am I encouraging you to be part of something that has been nominated for the European Citizenship Awards 2018 under the category Social Enterprise of the Year! ?
You might think it is not worth it to spend one hour weekly with some complete stranger, perhaps you think that financial support would be more effective, or maybe that you do not possess skills and/or qualities mention, ….or something else?!
Believe that you can be the change in someone's life. Believe that you can make a difference.
Libba Bray, the New York Times bestselling author, once said "And that is how change happens. One gesture. One person. One moment at a time." (The Sweet Far Thing)
If this article sounds interesting and you see yourself as a future volunteer and/or would like to learn more about volunteering as a Teacher and Conversation Partner for Free Online Language Classes for Refugees and Displaced People, contact Sarah (from Teatime English) at Facebook group Free Online Language Classes for Refugees and Displaced People or complete the volunteer enrollment form at
https://docs.google.com/forms/d/e/1FAIpQLSfdFidkItB87Lqmh84z9Jv5yBBV-DD13vhNavVvar0Qb683Bg/viewform
Whatever your reason is for donating your time, these wonderful people would love to welcome you to their lovely community.
References