Copernicus: Language comes through culture
"The mantra of 'consistent reward' has often been popular amongst educators, but neuroscience suggests we may need to turn that on its head." So says Paul Howard-Jones, a professor of neuroscience and education at the University of Bristol. In one of his studies, participants could choose their reward for answering a question correctly: a guaranteed one point, or a 50/50 chance to win either zero or two points. "Using such a strategy,"reports Dr Howard-Jones, "we (along with other research groups) have shown that uncertain reward can boost emotional response, motivation and learning."
Unfortunately, the educational benefits of chance-based uncertainty weren't much of a consolation prize for a group of students at Kobe Shinwa Women's University in Japan on the morning of March 9th. They were taking part in a cross-border collaboration with students at the University of Mahajanga in Madagascar. Separated by latitude, longitude and culture, there were two threads that connected the two groups.
The first thread was science, specifically, solar eclipses. On September 1st, Mahajanga will witness an annular eclipse, where the sun becomes a 'ring of fire' surrounding the moon. On March 9th, meanwhile, Kobe had a partial eclipse, where the moon took a mid-morning 'bite' out of the sun's disk. There is, however, a critical element of uncertainty linked to observing eclipses: the weather. For the Japanese students, it was not much of an experience to share with their colleagues in Madagascar, since thick clouds hung over Kobe all morning…
The second thread was language, specifically, the English language. The students met and got to know each other by doing a cross-border read-through of "Europa Report", a science-fiction movie, on Skype. (You can read more about this part of the project here.) They continued their collaboration in an English-language Facebook group, with the discussion ranging from the principle of women-only universities, to typical breakfasts in Madagascar and Japan.
This Copernicus column focusses on the different sounds of non-native English around the world. So how did the students find their experience of using English as a common foreign language…?
"The vowel sounds are very different," notes Keisuke Tabata, who teaches at Kobe Shinwa. "Also, the Madagascar students speak much faster, and use many more contractions. We need more time and more opportunity to practise listening to these differences." He thought the exercise also highlighted gaps in culture, and students' knowledge about other places. "Our countries are far apart, and we never focus on Madagascar. Japanese TV, for example, tends to focus on Asia."
Eriky Haritsarartiaray, a postgraduate student in Mahajanga, agrees that culture was as much of a factor as language. "Language comes through culture," he says. "And culture comes through language. Either way, there were real differences in how people thought about what they wanted to express, and how they expressed it."
One of the key steps to improving communication, thinks Eriky, is getting people engaged. "It's difficult to get people really involved in English here in Madagascar, but this is a successful way to do it. The acting part of this project made it a new and exciting experience, especially for young people."
Back in Kobe, Keisuke also points out the benefits of an interdisciplinary approach to developing communication skills. "In this project we learned about space, language, culture and the many differences in our lifestyles," he says. "It's an opportunity for participants to engage closely in global society with a broad perspective."
Some of the students involved in the project are shown below, in full flow. At the top, from left to right: Yasuna Teshima, Keisuke Tabata, Rika Sato, Eriky Haritsaratiaray, Nomenjanahary Larissa Soavinarivo and Johnson William Clovis Ratsimanadino. Bottom: Graham Jones.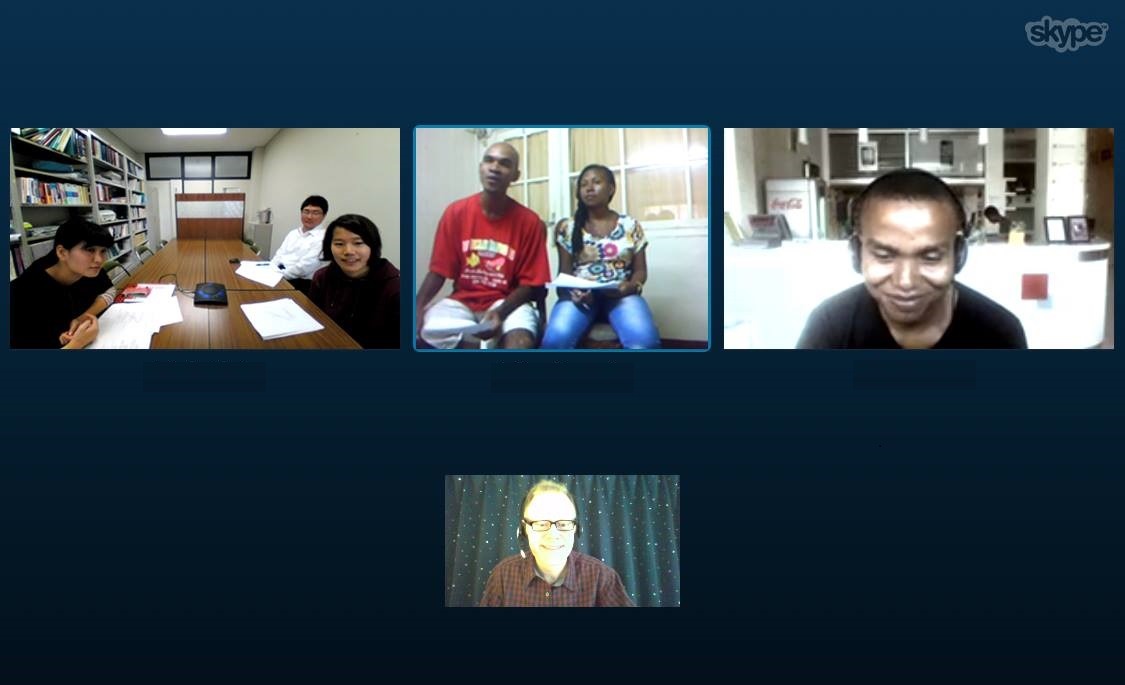 The annular eclipse of September 1st will cross parts of Gabon, the Republic of the Congo, the Democratic Republic of the Congo, Tanzania, Mozambique, Madagascar and Réunion. The whole of Africa (apart from the Mediterranean coastal area) will experience a partial eclipse. The next partial eclipse visible from Japan will be on January 6th 2019.

Information about our Global Communication and Science programme – which uses solar eclipses as 'teachable moments' to connect students around the world – can be found here.