by Peter Hughes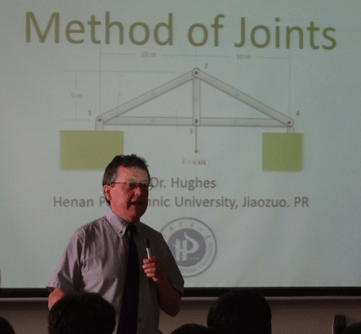 I teach at Henan Polytechnic University (HPU) in China. It is a beautiful campus, with Lotus flower lakes, rivers with black swans, hidden woods and peaceful parks. It has good sports facilities and marvelous food halls. Supermarkets offer everything you may wish for along with banks, bakers, hairdressers and numerous shops and street traders all within the walls of campus.
I teach in the School of Civil Engineering. My modules are delivered in English with a focus on illustration. My students look at me with horror when I ask them to sketch.
They respond by saying 'We cannot draw'. I believe that illustrating is a vital skill for a civil engineer. I take my students on site visits on and off campus and encourage site sketching, taking measurement, photographs and notes. I believe anybody can draw, it just takes practice. I realize computers and mobile devices are common within civil engineering, but often in a work environment, at a meeting of engineers from many countries, a sketch pad can be extremely useful form of communication.
Why did I choose to go to China?
I choose to come here because I simply love Asia. I was very fortunate to receive a Research Fellowship from The Japanese Society for the Promotion of Science (JSPS) in 2013. I was able to continue my doctoral research at the University of Fukui, and discover Japan. I returned to England to complete my PhD and longed to return to Japan. On completion I emailed all my supervisors and colleagues across the world who had helped me in my study, including Professor Suye in Japan.
He emailed back with a congratulations letter and offered me a 2 year post-doc research programme as an Assistant Professor. I was so happy to accept such a wonderful offer. I was very happy in my time in Japan, but the 2 years quickly passed and I returned to England. I spent the summer with my children and hoped for another spell in Asia.
I was extremely fortunate to be offered a position in China at HPU. I initially started in February 2017 as lecturer in civil engineering along with a position of Research Fellow with the University of Limerick in Ireland. After one year I was honoured with Professor and was very happy here. I spent my summer break in Ireland, writing new modules and research papers.
Who and what age do I teach?
My university students range from 18 years to 22 years of age. I mainly cover material science to all four years. I also cover technical communication, professional skills and engineering illustration. I offer tutorials on the College English Test (CET), which all undergraduates in China are expected to undertake. I give English (IELTS) tuition to students who are planning to study overseas and help them with their English exams. I also teach English in a private capacity to junior school children
I am particularly interested in concrete technology, timer frame construction and Chinese traditional construction methods, all of which I introduce to my students. Model making is also an important element of my modules.
I often proofread manuscripts of proposed research papers written by students and staff, which is often a challenge. I am also carrying out my own research and writing my own papers. I am supervising a Masters student and preparing him for his PhD. I also am carrying out experiments with various students in connection with preparing a research paper.
What cultural differences have I had to cope with?
There are many different cultural differences I have faced, here in China and Japan. As to the language, I have learnt the simple words I need to use every day, like good-morning, thank you, no thanks, goodbye and so on. When you go into a restaurant, the menu has pictures, if you require a drink it is understood that they want to sell you as much food and drink as possible, so there is common ground.
The language barrier is lowered when I go to buy a baked sweet potato at the university gate, the old Chinese man knows I want to buy one and he indicates the price; a trade complete. The food here in China and also in Japan is completely different to what I am accustomed to, Chinese food in the UK is rather different to the 'real' Chinese food. In Asia they tend to 'all' the animal, so I tend to eat fruit, rice noodles and yoghurt. There are western style pizza and burger shops, but of poor quality. My students are fascinated by me, they often take me for dinner and watch me fumble with chopsticks, referring to me as a 'lefty'. Being left-handed is not allowed.
Would you recommend China as a place to teach?
There are problems along the way, like poor water and air quality and difficulties with internet access. I would most certainly recommend teaching in China; it's a wonderful country. I always keep in my mind that I am a guest here and must respect their rules and way of life.
This is a video I have made to show the readers of EFLmagazine where I live.