by Mohamed Elhess
In a typical language classroom, some students prefer to work individually, some rely upon kinesthetic or visual learning style, some show eagerness in thinking critically, etc. Accordingly, students need opportunities to express what they know and do and to tackle challenges within their own comfort zones.
This implies that learner autonomy entails nothing other than allowing learners their choices of materials and tasks that match their interests, learning preferences and language abilities (Evans & Boucher 2015). When students read what they have chosen, they can experience control over their learning and be more engaged in academic tasks. One of the ways in which I offer more choices to my diverse classroom is online news stories.
Why Online News Stories
News stories present real samples of a variety of topics on current affairs, politics, weather, sports, business, and entertainment among others, about which students want to read. More importantly, such authentic texts offer varied modalities that fit students' different preferences and learning styles. This teaching tip demonstrates engaging ways to support autonomy and language development using such authentic texts.
Learn about your Students
Before planning any reading selection or any instruction, it is important to understand who your students are, their preferences, needs and interests, etc. For example, this understanding should focus on:
What topics intrigue their interests.
If they work comfortably by her/himself.
 If they enjoy working with others.
 If he or she is a risk-taker. etc.
Based on the information that you gather about your students, select a piece of news about which the students wish to read and which they find meaningful. Also, ensure that the students select news texts that align with the language function(s) of the lesson and that match their current language abilities. Nowadays, this is no longer a burdensome task, as websites offer several news outlets that rewrite the same news for different language levels, such as Newsela and breakingnewsenglish.com
Step 1
As they read, encourage students to build their language skills. In this regard, instead of completing worksheets with practice drills and fill-in-the-blank exercises, students can find a broad array of opportunities to manipulate vocabulary and content in appropriate contexts. For example, students can discover synonyms in context as they read the same news from different resources, for instance,
Example 1,
Hero Malian migrant who saved child to be given French citizenship…
Man awarded French citizenship for saving toddler hanging from …
'Spiderman' Granted French Citizenship After Rescuing Child From…
Example 2,
Some students may use the visual image to help better understand the content and topics.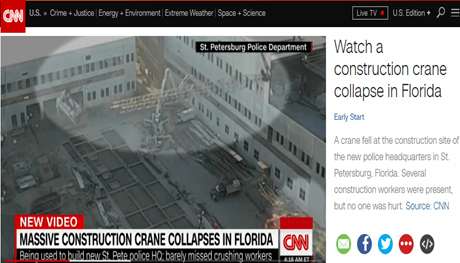 Student 1: I think this tool is called crane. The tool fell while people were building something.
Student 2: So, collapse means fell. Also, I always see the word construction in the roads when I drive with my car.
Does it mean to fix or build things?
In this step, as they interact with the text, students are being pushed past the boundaries of their current language abilities to discover new meanings.
Step 2
Give the students the opportunity to summarize, reflect on the news story or share it on social media. Meanwhile, supply the students with follow-up question such as:
What is going on in the news stories?
What is the update about this issue?
What are the key elements of this story?
What is the timeline for this story?
How would you connect it to own experiences or to a different news story? etc.
Step 3
Have students choose a final product.
-For example, in the piece of news below, the students chose to read about Malala Yousufzai, who is renowned for human rights advocacy; educating Pakistani girls.
"….Malala tried to affect change in the region, bringing attention to women's rights and the education of women."
Then, they selected a task that suits the textbook language objective; to compare and contrast. Therefore, they first discussed Malala's contribution to education and her role on improving girls' education in Pakistan. Then, they compared Malala to Nelson Mandela in how they both fought for what they believe in.
-Other students, who are interested in discussing human rights, discuss the development for women's right in Saudi Arabia. Then they created a timeline demonstrating such development.
-Other students chose to create an ad as a response to the above piece of news.
A baby bear is looking for new  place in your zoo. He lost his mom and dad. You can choose a name for him.

In this step, students find opportunities for learning new concepts while utilizing other language structures through recreating, paraphrasing, and other skills that are necessitated to accomplish the stated goal.
Final thought
News stories can be an effective technique for developing language skills and providing choice in the classroom. When we give our students the opportunity to read what they want, they become autonomous an engaged.
Reference
Evans, M., & Boucher, A. (2015). Optimizing the Power of Choice: Supporting Student Autonomy