Teaching Academic Writing in The Blended Classroom
Hybrid learning is great but…
I've been teaching academic writing to high-intermediate and advanced ESL students at a francophone college in Québec, Canada for the past several years. Using the platform Moodle, I've been doing hybrid or blended teaching in multi-skill courses.
The hybrid/blended classroom has been growing in popularity among colleges in Canada.  This is not surprising because recent research shows that blended classrooms outperform traditional classrooms.
A blended classroom seems to be the best of both worlds, combining online instruction with face-to-face classroom.  Others report that the blended classroom–whatever the various models used–is flexible and convenient; it offers access to lots of resources.  Online tools can also increase student motivation.
My main problem in teaching academic writing
That's all fine and dandy, but the blended classroom hasn't been without its challenges. Over the years in teaching academic writing, I've used different traditional textbooks, online resources such as OWL, and my own blog posts.
To be honest, I haven't been satisfied with Moodle as a static storehouse of information, although it does have great features, such as self-corrected quizzes and online response to student writing. Moreover, students find the Moodle interface complicated and less than crystal clear. I'm constantly asked where can I find this or that.  Another problem is that Moodle is often inaccessible on the college server because of its high demand on bandwidth.
To add to my challenges, in teaching academic writing the students and I often get lost in a sea of materials and activities without a clear focus.  You probably know the feeling if you have taught academic writing.  There are so many amazing materials and resources that you don't know where to begin or how to organize or sequence them.
To put it succinctly, my main problem in teaching academic writing has been providing tons of resources, activities, interactivity and feedback–with a clear focus–to my ESL students within a 45-hour course.
Coming up with a solution
I wanted to create a more lively learning experience for my students and myself. Most importantly, I wanted to help students focus on what they needed to do to write better.
According to one expert, it's critical to design materials with the end in mind, to make it clear to students what they need to learn.
To address my main problem, I took the bull by the horns and created my own online course. Working with Chris Rush, an experienced online teacher, I published Introduction to Academic Writing (AWC) in August 2016.
The online course draws on my experience in teaching, writing and online material creation as well as Chris's technical know-how. I also drew on best practices in eLearning to build the course, such as high-quality design, a multimedia experience, user-friendliness, and practice activities.A lively learning experience
To solve my problem, I wanted to make learning interesting and interactive to complement my live teaching in the blended classroom. It was important to me to create a course that:
Provides an attractive, easy-to-use interface
Presents clearly-stated outcomes
Calls on different learning styles
Gives frequent formative feedback.
Make the visual experience attractive
To keep in mind the need for a top-quality look and feel to the course, I wanted a teaching platform that was clear and friendly, more so than Moodle or Canvas. As I mentioned, I use Moodle, but it is not the most friendly site. A colleague of mine, who teaches online, raves about Canvas with its many amazing features. However, you almost need a mini-course to explain how to use it, especially for less-technically savvy students. I wanted to simplify, not complicate, the online experience for students.
As you can see in Figure 1, with the teaching platform I'm using, I find the presentation clear, logical and unambiguous. Students see at a glance the content progression in the six lectures in section 1, Focus your argument, from the Introduction to the Self-assessment Worksheet.
Another nice feature of the platform is that it is mobile friendly, so students can access it wherever Wifi is accessible. In other words, there is no excuse to not doing the assignments in the AWC.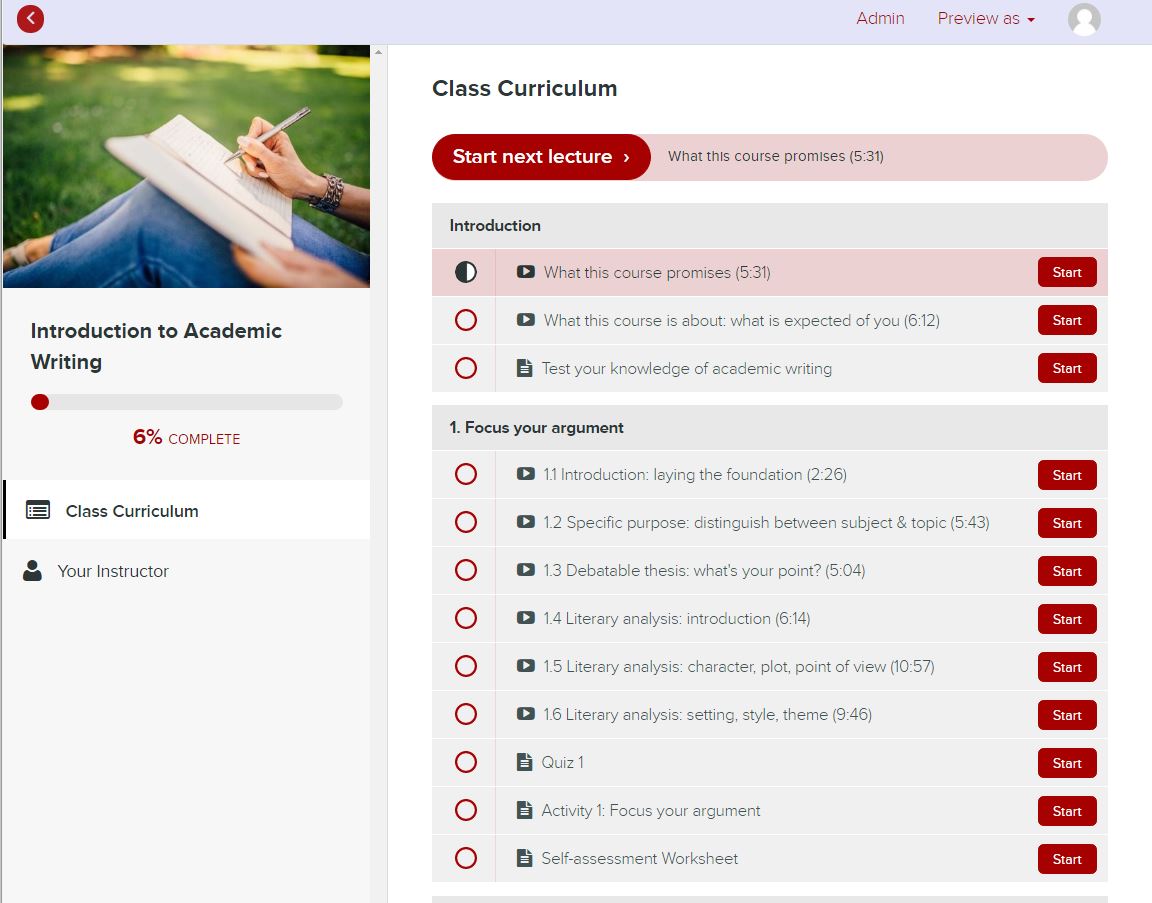 Fig. 1. "Class Curriculum" from the AWC
Focus on what students need to
Recently, I discovered an eye-opening article by Badenhorst about the importance of writing to students' academic success in post-secondary education. The author asserts that "academic writing is seldom explicitly taught." If this true for native speakers of English, imagine the problem for high-level non-native speakers of English.
Teachers–including myself– are so caught up in teaching content and the other skills that the writing needs of students are neglected.
To map out what students need to produce in good writing, Badenhorst created a "Composite Writing Rubric." I used the criteria the author described to assess student writing as the foundation for the AWC.
In Figure 2, I lay out the complete list of writing criteria I used. The writing criteria are covered across the six sections of the course, ranging from section 1. Focus your argument to section 6. Present your final paper.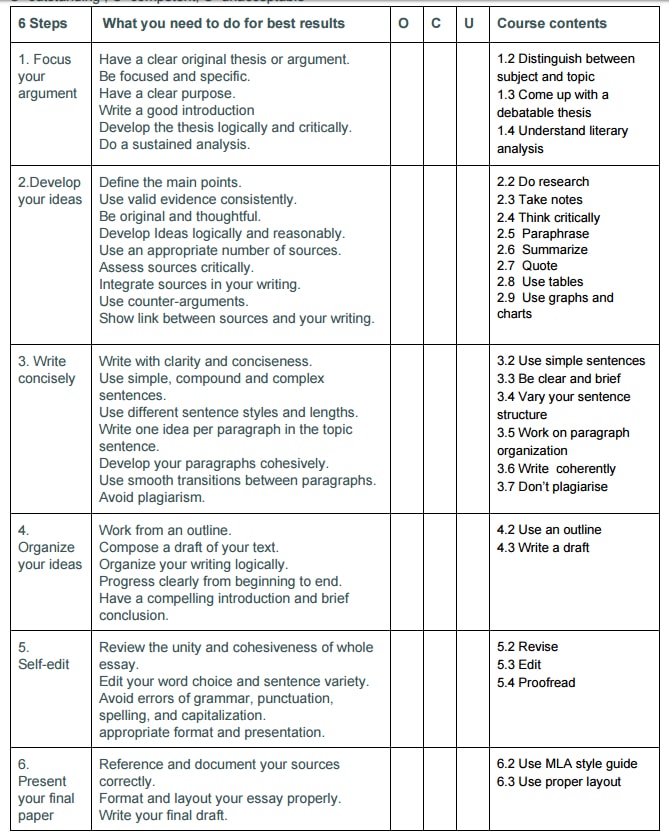 Fig. 2. Complete list of writing criteria in the six sections of AWC
Offer different learning channels
Based on best practices, the course mixes visual and auditory media
A good way to engage students is to incorporate a lively audio/visual presentation accompanied by a transcript of the lecture. As Figure 3 shows, students have the option of listening to the recording and/or reading the text.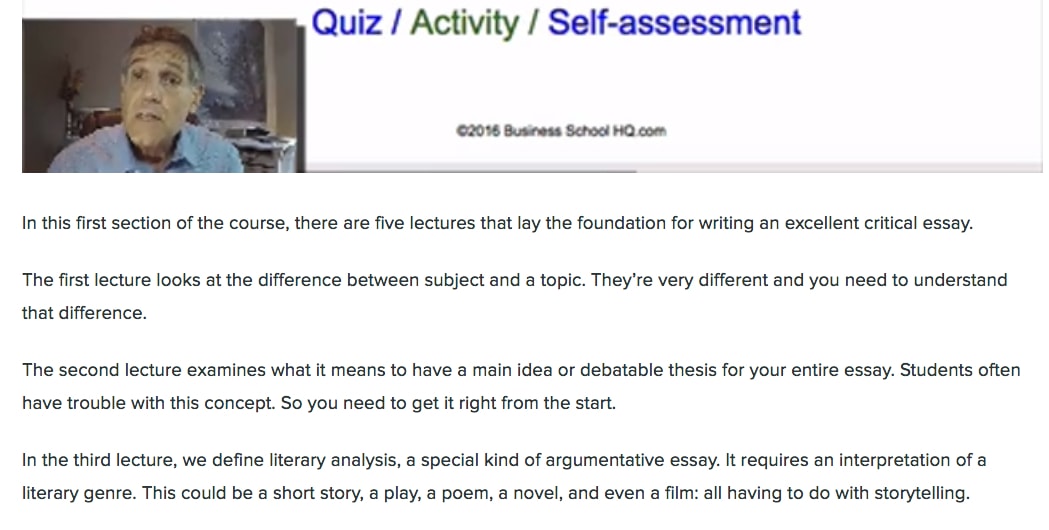 Fig. 3. Multiple learning channels in the AWC
Provide frequent feedback
Another best practice I wanted to incorporate into the course is frequent feedback in the form of quizzes, writing activities and self-assessments. Each of the six sections has all these learning tools.
Quizzes
A pre-test to assess students' knowledge before taking a course is a good tool. Frequent formative questions are also useful. Figure 4 shows the 20-question self-corrected quiz at the end of section 1.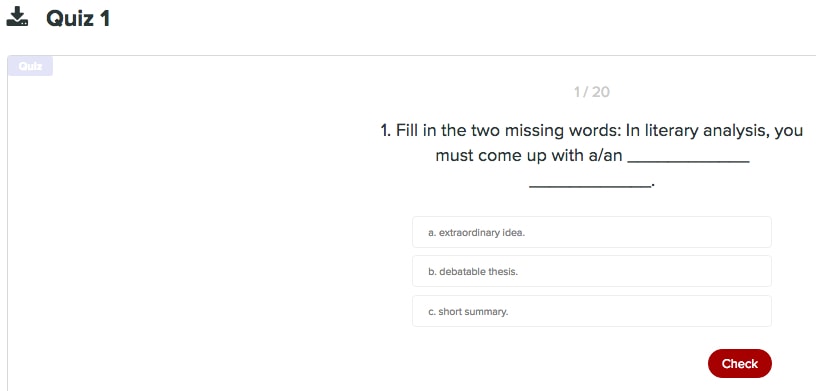 Fig. 4. Quiz from section 1 of the AWC
Writing activities
Frequent writing activities reinforce the objectives of a course. Figure 5 shows that writing activity at the end of section 1. All the writing activities lead students to writing an essay. If they have followed the writing process in the AWC, their essay should be outstanding.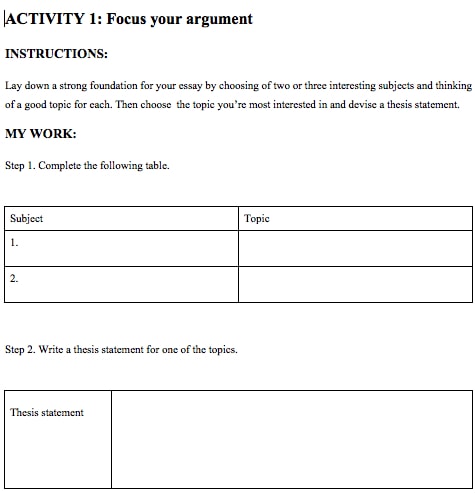 Fig. 5. First activity from section 1 of the AWC
Self-assessments
Another important best practice in learning is to give students the opportunity to assess their learning progress. Some experts call it a learning log, a way for students to document what they have learned.
Figure 6 shows the Self-assessment tool for section 1. Students have the opportunity to rate their knowledge and performance on a scale of 1 to 3.
Fig. 6. Self-assessment from section 1 of the AWC
I welcome your feedback on the best ways you have found to teach academic writing in the blended classroom. You can reach me at frank@frankbonkowski.com.