Eric Haeg is the Course Director of TEFL Campus Phuket. For more information on teaching English in Thailand, email Eric at info@teflcampus.com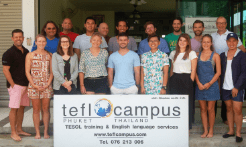 I started teaching in Thailand 14 years ago. Before that, I'd never been to Asia, much less eaten Thai food. Despite not knowing a preposition from a proposition, I enrolled in a TEFL certification course in Phuket for no other reason than it looked like a flippant suggestion. I remember looking at the word 'Phuket' and thinking, "Ah, Phuk-et, why not?"
Since then, I've taught in all types of EFL classrooms and I have also taught science; I've been a guest lecturer at a private university and a corporate trainer for a major hospital. I've been an online TESOL certificate tutor and an onsite TEFL course trainer. In fact, since 2008 it's been my job to help people find EFL jobs in Thailand.
If there's one constant I hear from those thinking about teaching English in Thailand, it's that there's a lot of conflicting information on the subject…which is correct. Visa and labor laws are treated more like suggestions, with resulting enforcement as unpredictable as the spin of a roulette wheel. This means thousands of foreign teachers with thousands of different experiences populate internet forums and Facebook groups offering conflicting advice.
I'm just another one of those foreign teachers, to be honest.
That being said, the information below isn't based on personal experiences over a year or two. It comes from listening to new teachers' stories year after year, reading official translations from various government offices, and conducting research on articles published in national news outlets. It won't paint a complete or perfectly clear picture, but it should help some of the blurred lines come into focus.
What are the requirements to teach English in Thailand?
Official requirements
 for EFL jobs in Thailand require a bachelor's degree in any field, native English speaker (NES) status, a CELTA or TESOL/TEFL certificate and clean criminal record. Associates degrees and diplomas will not suffice; only those from the UK, Ireland, US, Canada, Australia and New Zealand have NES status, and while CELTA/TEFL certificates aren't a legal requirement, almost all decent employers require one in the absence of teaching experience. Minor offences are no cause for concern, but any drug-related or violent crime convictions will bar you from employment.
Non-NES teachers should be sure to have a valid score on a test of English such as the IELTS, TOEIC or TOEFL. A high score, plus true fluency in phone calls and interviews can help see employers through their NES bias. This is also a visa application requirement for teachers.
In reality
 Unofficially, gender, nationality, age and race act as unofficial requirements. Most Thai employers prefer young, white, NES females. NES males under 55 can also find jobs easily if they are white. While the situation has improved over the years, black and Asian teachers will find barriers to employment but if they have NES status, and meet the other requirements, the likelihood of finding employment is still good.
How much can I earn teaching English in Thailand?
Mainstream Education
Average TEFL teacher salaries for full-time work in a school ranges anywhere from 30,000 to 40,000 baht per month. This is largely dependent on the location, the type of teaching you're doing, and your qualifications. Urban areas pay more than rural areas; private schools pay more than government schools; universities pay the lowest full-time wages, and teaching within an English program (where parents pay more tuition for smaller class size and more subjects taught in English) pays more than regular enrollment programs. Don't settle for less than 35,000 baht per month if you meet all the employment requirements and have at least two years' teaching experience. Also, ensure you're signing a full one-year contract so as to avoid gaps in pay.
Language Centers
Good full-time language center work is harder to find outside of central Thailand. If you can find it, your best option is to teach at one of the international outfits such as Wall Street Institute, International House, Inlingua, etc. Salaries here shouldn't be less than 40,000 baht per month.
Earning Extra Money 
Many mainstream schools offer the opportunity to teach extra classes during many weeks of the school year, and this can significantly increase your monthly income (5,000 to 15,000 baht per month). Universities allow you plenty of extra time for proofing research papers or private tutoring. Another way to increase income is by teaching English online (US$ 14-21 per hour). Of course there's also teaching part-time at a language center or on a freelance basis, but hourly pay can be low (350 to 600 baht per hour).
How much can I save teaching English in Thailand?
Let's be perfectly clear: Thailand isn't the best place for teaching English abroad while saving money. That being said, you can save money and plenty of people do.
Those who save money are employed full-time on a decent wage. They work a part-time job and they live closer to local standards than someone who needs to eat western food and go out socializing three nights a week. They travel locally a few times a year and they do so on a modest budget. The best part of this is that travel around most of SE Asia is cheap, eye-opening and options are plentiful.
If you can do all this, expect to save a modest amount of money in a year—perhaps US$ 2,000 to 3,000.
Regions
Whether it's down to climate or culture, cuisine or scene, the region in which you work may make or break your time in the Kingdom.
Central 
This area holds the bulk of Thailand's population and urban settings. There are plenty of well-paying schools in this area and the most opportunities for language school work. If the thought of teaching in Bangkok doesn't appeal to you, there are other areas such as Autthaya, Chonburi and Nontthaburi. You should be able to command higher salaries but don't expect much of the classic Thai vistas or warm welcomes you've heard so much about.
Northern 
This part of Thailand is known for its laid-back atmosphere and its chilly cool season. Most teaching positions are found in Chiang Mai, Chiang Rai, Nan and Lampang. Outside of Chiang Mai, expect a low-key vibe, plenty of hilly green space and a milder cuisine with hints of Chinese influence.
Northeast
 Known as Issan (or Esarn), northeast Thailand is the nation's breadbasket and home to the friendliest people in the Kingdom. Don't expect high pay or a large staff of foreign teachers; Issan offers one of the best opportunities to tune into local culture and tune out of the daily grind. If isolating yourself in the sticks isn't your thing, the city centers of Nakkorn Ratchasima and Ubon Ratchathani offer plenty of amenities with quick access to the countryside.
Western
 This is Thailand's smallest region and offers the fewest opportunities for teaching jobs. NGO and volunteering work can be found in provinces such as Kanchantaburi and Tak, along the border with Burma. Alternatively, you can head for the coastal resort city of Hua Hin.
Southern 
When most people think of Thailand, this is the region they usually picture in their heads. But if 'teach by the beach' is all you can think about, think again. Schools don't dot the beach front like resorts do but the good news is that the ocean is never very far away. Phuket is Thailand's richest province and it offers the best access to Western comforts, but comfortable work opportunities can also be found in cities such as Had Yai, Surratthani and Krabi.
Types of Employment
Mainstream Education
This includes kindergarten (anuban), primary levels (prathom) and secondary levels (mattayom). There are public and private options around the country. Although you're most likely to teach EFL, many schools offer an English Program where you can find positions teaching maths, science, IT, PE and various other subjects.
Universities
Jobs at universities are common and you'll almost always be classified as an English Language Lecturer. Contact hours are minimal and so are office hours. Most schools will allow you to come and go as you please as long as you're getting the job done. Pay is low but there is plenty of time for extra work.
Language schools
Language center work in central Thailand is similar to most other countries. You'll teach a lot of different types of lessons at the language center or onsite at the students' place of work. However, in the past few years, many language centers have begun acting as agents that supply government schools with foreign teachers. This has both stagnated wages and lowered job satisfaction due to complications between the schools and the teacher. When and where you can, try to find direct employment with a school itself.
Freelance and Online
The two things you need to know about freelance teaching in Thailand is that it's illegal…and everyone does it. It's easy to find freelance work in Thailand but the hourly rate of pay (US$ 11-16/hr) is behind that of online teaching (US$ 15-22/hr).
Finding a TEFL  job
The most effective way to find a job teaching in Thailand is to go to a school in-person. Assuming you meet the requirements, you're dressed to impress, and you approach the interview with a good degree of professionalism, your odds of finding employment are nearly 100% after visiting a handful of schools.
You can also try online searches and do interviews by Skype or another video chat service. Throughout the year, there is an abundance of vacancies on Ajarn.com and Ajarn Job Space, as well as on Facebook groups such as Teaching Jobs in Thailand and Teachers in Thailand. However, employers are very hesitant to hire from abroad and it's generally a good idea to come and conduct a job search on the ground.